About
Rendezvous is a 5-day gay campout in the Medicine Bow National Forest, between Laramie Wyoming and Cheyenne Wyoming. The Rendezvous Event provides a friendly, safe, LGBT affirming environment for everyone, from everywhere. Pitch a tent, bring an RV and join us for 5-days of making new friends while celebrating Pride Wyoming Style. Activities include Games, Live Entertainment, Dancing, ATV trails (bring your own), Socializing and More.
Rendezvous is the Rocky Mountain Region's largest LGBT Pride Camping Event. Rendezvous started in 1992 and its popularity continues to amaze everyone and grows larger each year with over 500+ people attending.
Rendezvous – A Newcomer's Perspective
Last year I was a "Rendezvous Virgin," both nervous and excited. Being a Wyoming native I couldn't wait to finally spend some time around people I could relate to, and when it was all said and done I vowed that I would never miss another Rendezvous – it was truly a life-changing experience. I was at Pride in Denver this year, passing out Rendezvous flyers in the parade and also spending some time manning our booth in the park. The most common question I got was: "What kind of a camping trip is it?" My response: "Like anything in life, it's what you make of it." If you're looking for a nice quiet and relaxing camping trip you can find it here. If you're looking for a great party you can also find it here; and anything in between. We have old campers, young campers, men, women, families and a nice mix of the LGBT community along with a handful of our straight allies.
I honestly didn't know what to expect. I'm not much of a camper so I wondered if I would even fit in. Right away I had trouble setting up my tent, thinking to myself I can't get this put together quickly I'm just going to throw it back in my car and go home. Luckily I almost immediately had help – a passerby came to my rescue and I ended up spending many wonderful hours with him and his friends laughing, telling stories and sharing good food and drink.
Speaking of food, I brought some of my own, but decided to mostly eat the meals that could be purchased at the main campsite. I thought they were very good! All the ingredients were fresh and a nice variety was offered. I met some campers that had brought all of their own food and were kind enough to invite me to one of their "dinner parties." Keep in mind this is gay camping, so they weren't grilling burgers and brats – it was more like bacon-wrapped shrimp on rosemary skewers. I had wonderful food the entire time I was there. The entertainment was great last year, and should be even more impressive this year. For me, the best part was making so many new friends. Some I've stayed in touch with over the last year and we've actually become very close, and some I'm excited to reconnect with. So if you're on the fence about attending or not attending, give it a shot, it might just change your life!
Rendezvous & Wyoming Equality
Rendezvous is just one of many events Wyoming Equality facilitates throughout the year. Rendezvous is planned to help enrich the lives of the LGBT community in Wyoming, but it also serves as a fundraising event. With your ticket purchase, you are attending an amazing event and helping financially to support Wyoming Equality and its mission. Our goal isn't to price this event outside anyone's budget. If you want to attend Rendezvous and can't afford the admission price, you have options. One option is to volunteer and earn a reduced registration fee. Please email info@wyomingequality.org or call 307-778-7645, ext. 1, for details on lowering your admission price.
Keeping our overhead low is a priority because it helps keep admission prices from rising. Our expenditures for Rendezvous include the obvious things: paid comedian, port-a-potty rentals, trash bin rentals, table and chair rentals, generator rental and DJ services. Free stuff we include with your tickets are: mini-flashlights, carabineers, T-shirts, hamburgers, hotdogs and ice cream. The not-so-obvious expenses are: event insurance, trailer insurance, website, office supplies, event supplies, propane for heaters, airline ticket and car rental for comedian, wrist bands, lunch provided for volunteers, Forest Service fees, transportation costs for getting everything on-site, credit card transaction fees and advertising fees.
Additionally, only one person working in the admissions tent is a paid worker at Rendezvous. All the rest of us are volunteers, including Wyoming Equality's board members. Make sure you give our volunteers a big pat on the back and say thanks, because without them, Rendezvous wouldn't happen! Thank you for attending and supporting Wyoming Equality!
Learn More About Wyoming Equality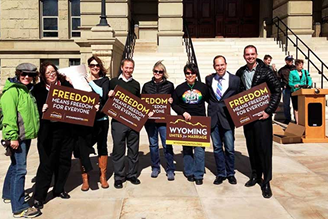 Mission
Wyoming Equality strives to achieve equity for all lesbian, gay, bisexual, transgender, two-spirit, and queer Wyomingites by building broad and inclusive communities, shifting the hearts and minds of our neighbors, and achieving policy victories.
Vision
A Wyoming where the diginity and humanity of all LGBTQ Wyomingities is celebrated and protected in the communities we call home.
Services
Wyoming Equality provides the following services for the Wyoming LGBT Community:
Emailed quarterly newsletter titled the United Voice, with over 4,000 subscribers.
An internet website for up-to-date information. www.wyomingequality.org
A variety of annual social events including Rendezvous, our annual camp-out, a casino night, and dances.
Conferences and support groups.
Organized activities of interest to our members.
Community service workshops of interest to the LGBTQ+ community.
Political advocacy
Wyoming GSA Network website located at www.wygsanetwork.org
Statewide GSA training, support, strengthen and/or development.
Membership
Membership in Wyoming Equality is open to any person who seeks to support the lesbian, gay, bisexual, and transgender community in Wyoming, and must be renewed annually. Members will receive an emailed quarterly newsletter, member discounts, and free personal advertising in United Voice.
Organizational Structure
Wyoming Equality has an elected board of volunteer directors responsible for managing the various services, events, and finances. Members are welcome at our general meetings, usually the 2nd Monday of each month. Please call 307.778.7645 for time and location. They also receive a newsletter.
Wyoming Equality is a non-profit organization registered with the State of Wyoming as United Gays and Lesbians of Wyoming, and is recognized as a tax-exempt organization under section 501c(3) of the IRS code. Donations to Wyoming Equality are tax deductible to the fullest extent allowed by law.
Board of Directors
Treasurer
Shayna Alexander